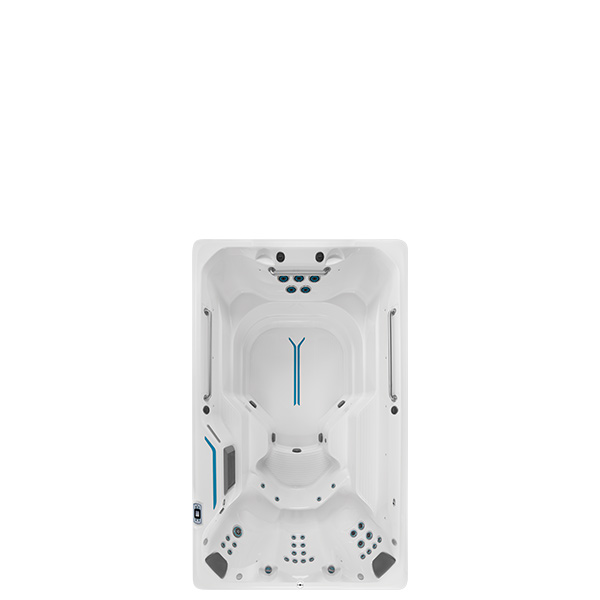 X200 SwimCross® Exercise Systems
Imagine a day that begins with your wellness in mind.
A sunrise swim or rigorous aquatic workout clears your mind and leaves you with a sense that there are unlimited opportunities for the day ahead. This day is made possible by the all-new SwimCross® Exercise Systems, from the makers of Endless Pools®.
The X200 blends the functionality of swimming and exercising in the privacy of your home with a uniquely beautiful design that puts SwimCross Exercise Systems in a class of its own.
Spec
X200
Dimensions
12′ L X 50″ H X 89″ W
Water Capacity
1,210 Gallons
Weight
2,225 lbs. (Dry) / 14,070 lbs. (Filled*)
Shell Color Options
Alpine White or Ice Gray
Cabinet Color Options
Dark Mocha or Gray Oak
Swim Technology
5 Swim Jets – Max 320 Gallons Per Minute
Swim Jet Pumps
2.5 HP Continuous Duty; 5.2 HP Breakdown Torque – (1) Single Speed & (1) Dual Speed
Hydromassage Seats
3
Hydromassage Jets – 27
1 Large Jet
2 Rotary Jets
2 Directional Jets
22 Mini Jets
Hydromassage Jet Pump
2.5 HP Continuous Duty; 5.2 HP Breakdown Torque – Dual Speed Pump
Control System
LCD Control Panel; 230v/60amp, 60 Hz, includes G.F.C.I. protected sub-panel
Water Feature
2 Illuminated Waterfalls
Water Management System
UVC + CD Ozone
Effective Filtration Area
2 x 50 Square Feet
Lighting System
Multi-Color 15 LED Lights & 5″ Main Light
Substructure
14 Gauge Galvanized Steel Frame
Base Pan
Thermoformed ABS Base Pan
Heater
4000 watt
Energy Efficiency
Certified to the APSP 14 National Standard and the California Energy Commission (CEC) in accordance with California Law
Stainless Steel Grab Rails
3 Satin Stainless Steel Rails
Music Option
8 Speakers + Subwoofer, Bluetooth® Enabled
Exercise Equipment Options
Swim Tether and Rowing Kit
Vinyl Cover & Lifter Options
Endless Pools® Bi-Fold Covers & Lifters or VacuSeal® Cover System
Additional Options
Floor Mirror, Gecko® In.Touch Wi-Fi & Mobile App
Footnote
*Includes water and 10 adults weighing 175 lbs. each
Swim Jets
The swim jets in SwimCross Exercise Systems are designed for both swim and water-workout options suitable for all ages, sizes and skill levels. A total of five swim jets, driven by two pumps, provide a steady stream of water that is more powerful than the average jet. The swim jet uses a Venturi effect, not air, to draw-in or entrain more water, effectively multiplying the volume of water. This design feature results in stronger resistance for swimming with less turbulence than other swim spas on the market. And, swimmers will find it easier to stay centered and afloat, thanks to the jet configuration, which is designed for the top jets to provide resistance while the bottom jets provide lift. Simply toggle the three top jets between two speeds and the two bottom jets between on and off – a total combination of five output levels – for easy workout customization.
Spa Seating with Hydromassage Jets
Following your workout, there is nothing like a "cool-down" in the comfort of spa seating here hydromassage jets soothe your muscles. Perfectly positioned in two captain's chairs with pillows, plus a third middle seat, four jet types are combined in three configurations to deliver an ideal post-workout relaxation experience.
Mini Jet – A small and focused stream of water targets specific areas.
Directional Jet – Similar to the mini, the directional jet is focused but with a larger stream of water.
Rotary Jet – Same level of water pressure as the directional jet, but rotates to create a circular massage pattern to cover a larger area.
Cluster Jet – A unique soft tissue massage targets the lower back.
LED Illumination
The stunning lighting of SwimCross Exercise Systems delivers maximum design impact. Its 5" main interior light and multi-color LED points of light provide ample brilliance and beauty. The water feature is also backlit for added elegance.
14-Gauge Steel Frame & ABS Base Pan
This model is built on an extremely durable, 14-gauge galvanized steel frame and ABS base pan. While many see this as an area to cut costs, Endless Pools went a cut above the rest by making this a standard feature on all products. The structural elements of the steel frame and ABS base pan provide the ultimate strength to deliver confidence in ownership for years to come.
Water Management System
SwimCross Exercise Systems use a dual water purification system that combines Ultraviolet C (UVC) with eco-friendly CD Ozone, commonly known as Advanced Oxidation Process (AOP), to neutralize contaminants. Water is circulated through the hydromassage pump on low speed for regular water circulation and optimal water quality.
Anchors and Handrails for Aquatic Fitness Accessories
Every fitness and exercise system is equipped with built-in anchors to attach fitness accessories including an optional swim tether, row bar set and resistance bands. The convenient and sturdy handrails are also great for support or for attaching resistance bands.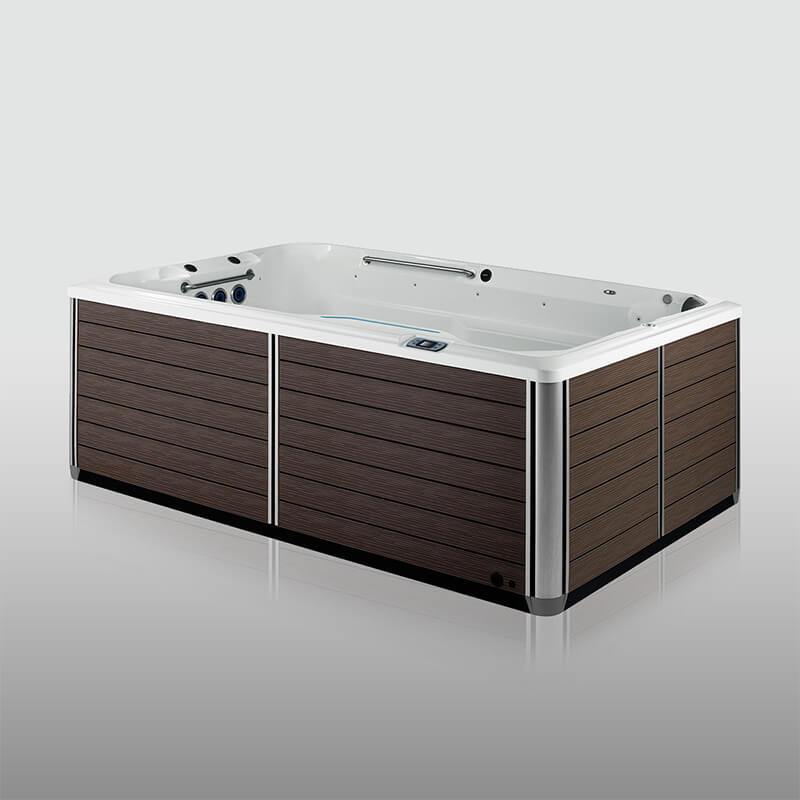 Energy Efficiency
Keeping your energy bill low is important. The Tri-Thermic™ Barrier System, a standard feature on all Fitness and Exercise Systems, provides three layers of insulation to conserve heat, enhance the energy efficiency, and lower operating costs.
The system's three layers include a three-quarter inch, two-pound density EPS (Expanded Polystrene) foam and reflective film attached to the inside of the cabinet, combined with two-inch think heat blanket made of high-quality recycled textile fibers and foil film, attached to the inside of the steel frame. Together these materials provide maximum thermal performance.
The Tri-Thermic Barrier System achieves certification to current California Energy Commission (CEC) and APSP 14 National Standards and already meets the upcoming 2018 CEC standards.
Control Panel
SwimCross Exercise Systems feature an LCD control panel that makes it easy to navigate component controls. Functions include on/off, water temperature and water care management, as well as control of the interior lighting, and hydromassage jets.
By installing the optional plug-and-play Gecko® In.Touch Wifi and Mobile App, you'll gain full control of the system's temperature, lights and jets from any wifi-enabled tablet or mobile device, anywhere, anytime.