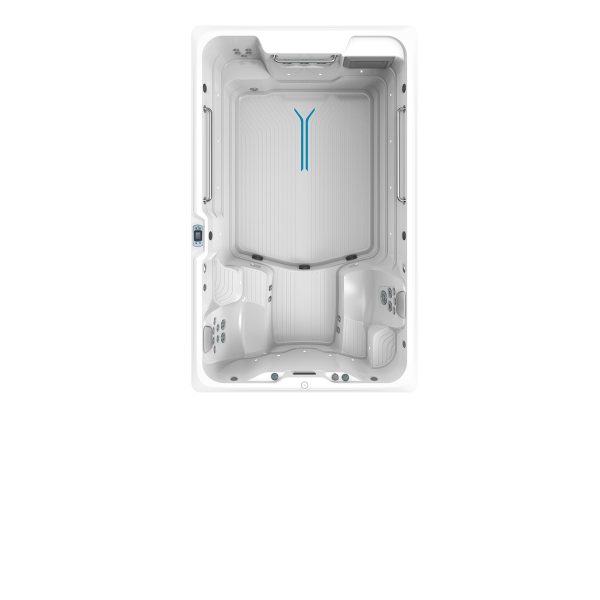 RecSport® R200 Recreation Systems
Fitness isn't always physical.
Taking care of your well-being isn't just about physical fitness. It's about family time, ME time, relaxation and play time. RecSport™ Recreation Systems R200 is ideal for those who want to enjoy the physical and non-physical benefits of water. Whether it's splashing with the kids, relaxing against the soothing hydromassage jets, or enjoying a low-impact workout, it's all possible – at home – with the R200.
Spec
R200
Dimensions
12′ L X 50″ H X 89″ W
Water Capacity
1,335 Gallons
Weight
1,845 lbs. (Dry) / 14,730 lbs. (Filled*)
Shell Color Options
Alpine White or Ice Gray
Cabinet Color Options
Mocha or Gray
Swim Technology
3 Swim Jets – Max 215 Gallons Per Minute
Swim Jet Pump
2.5 HP Continuous Duty; 5.2 HP Breakdown Torque – (1) Dual Speed
Seats
5
Hydromassage Jets – 27
1 Large Jet
2 Rotary Jets
2 Directional Jets
22 Mini Jets
Hydromassage Jet Pump
2.5 HP Continuous Duty; 5.2 HP Breakdown Torque – Dual Speed Pump
Control System
LCD Control Panel; 230v/30amp, 60 Hz, Field Adjustable 230v/60amp
Water Feature
1 Illuminated Waterfall
Water Management System
CD Ozone
Effective Filtration Area
100 (2 x 50) Square Feet
Lighting System
20 Multi-Color LED Points of Light
Substructure
Wood
Base Pan
Thermoformed ABS Base Pan
Heater
4000 watt
Energy Efficiency
Certified to the APSP 14 National Standard and the California Energy Commission (CEC) in accordance with California Law
Grab Rails
3 Stainless Steel Grab Rails
Music Option
8 Speakers + Subwoofer, Bluetooth®-Enabled
Fitness Accessories
Swim Tether, Resistance Bands
Cover & Lifter Options
Watkins Covers & Lifters, VacuSeal® Cover System, CoverCradle®/ProLift® III
Additional Options
CoolZone™ Cooling System, Floor Mirror, Gecko In.Touch™ WiFi and Mobile App, SwimDek® Surface Kits
Footnote
*Includes water and 10 adults weighing 175 lbs. each
Swim Jets
The swim jets in RecSport™ Recreation Systems provide the ideal environment for aquatic recreation at an affordable price. Three linear swim jets provide a steady stream of water that is more powerful than the average jet. The swim jets use a Venturi effect, not air, to draw-in or entrain more water, effectively multiplying the volume of water. This design feature results in a water stream with less turbulence than other swim spas on the market.
Shell Design
The seamless acrylic shell was specifically designed to maximize the space for exercise, play and relaxation with a unique center-facing spa seating configuration and large, 60" W X 78" L recreation space near the swim jets. Available in Ice Gray and Alpine White, it is built for durability and lasting beauty.
Spa Seating with Hydromassage Jets
The spa area of the R200 includes two bucketed hydromassage seats for back and foot massage and a 30-inch depth reef area located between the two seats; perfect for kids to play. Located next to the two bucket seats are the entry/exit steps on each side that also act as "cool down seats." Additionally, a bench style hydromassage seat is located next to the swim jets giving this unit comfortable seating for up to five and room for many more!
LED Illumination
The stunning lighting of RecSport Recreation Systems delivers maximum design impact. Its 20 multi-color LED points of light provide ample brilliance and beauty. The water feature is also backlit for added elegance.
Solid Wood Frame & ABS Base Pan
RecSport Recreation Systems are built on a sturdy wood frame coupled with an ABS base pan that is built to last.
Water Management System
RecSport Recreation Systems use eco-friendly CD Ozone to neutralize contaminants. Water is circulated through the hydromassage pump on low speed for regular water circulation and optimal water quality.
Energy Efficiency
The Tri-Thermic™ Barrier System, a standard feature, provides three layers of insulation to conserve heat, enhance energy efficiency, and lower operating costs. The system's three layers include a three-quarter inch, two-pound density EPS (Expanded Polystyrene) foam and reflective film attached to the inside of the cabinet, combined with a two-inch thick heat blanket made of high-quality recycled textile fibers and foil film, attached on the inside of the steel frame. Together these materials provide maximum thermal performance and achieve certification to California Energy Commission (CEC) and APSP 14 National Standards.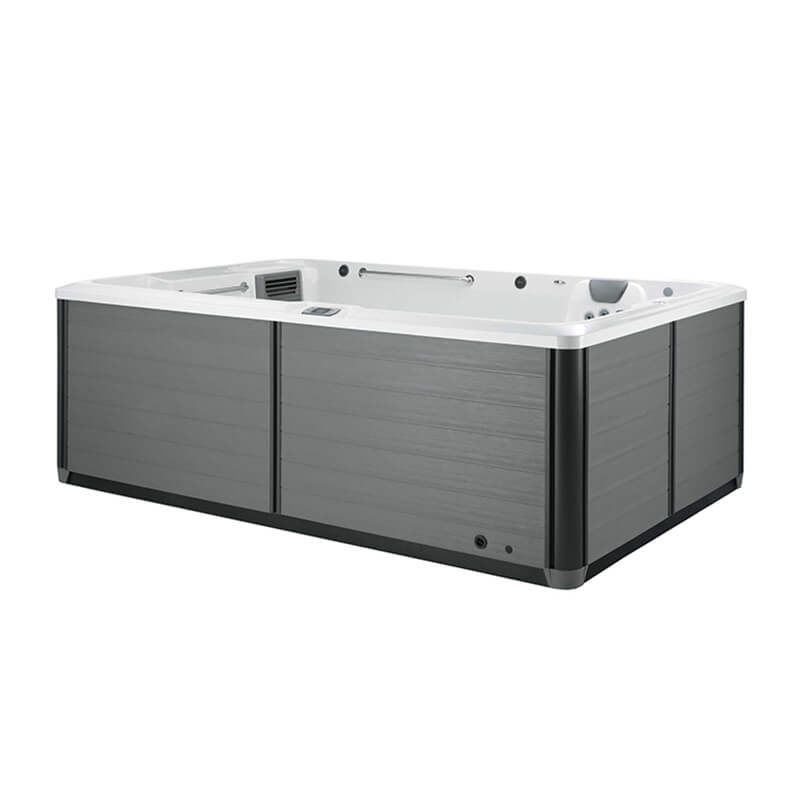 Control Panel
RecSport Recreation Systems feature an LCD control panel that makes it easy to navigate component controls. Functions include on/off, water temperature and water care management, as well as control of the interior lighting and hydromassage jets.
By installing the optional plug-and-play Gecko® In.Touch Wi-Fi and Mobile App, you'll gain full control of the system's temperature, lights and jets from any Wi-Fi-enabled tablet or mobile device.
Anchors and Handrails for Aquatic Fitness Accessories
Every Fitness System is equipped with built-in anchors to attach fitness accessories including an optional swim tether and resistance bands. The convenient and sturdy handrails are also great for support for your resistance-training workout.